Back in December a filmmaker/youtuber by the name of
Joey Palmroos
launched a
Christmas B-Roll Competition
to win $500. Recently
Mike
,
Nick
, and I decided to start a production company "
Downstreet Collective
" where we would collaborate to tell small business and independent brands stories. As soon as I saw this competition I knew it would be a great opportunity for us to collaborate together on something new. So a couple weeks went by and we finally were able to shoot our Christmas B-Roll sequence.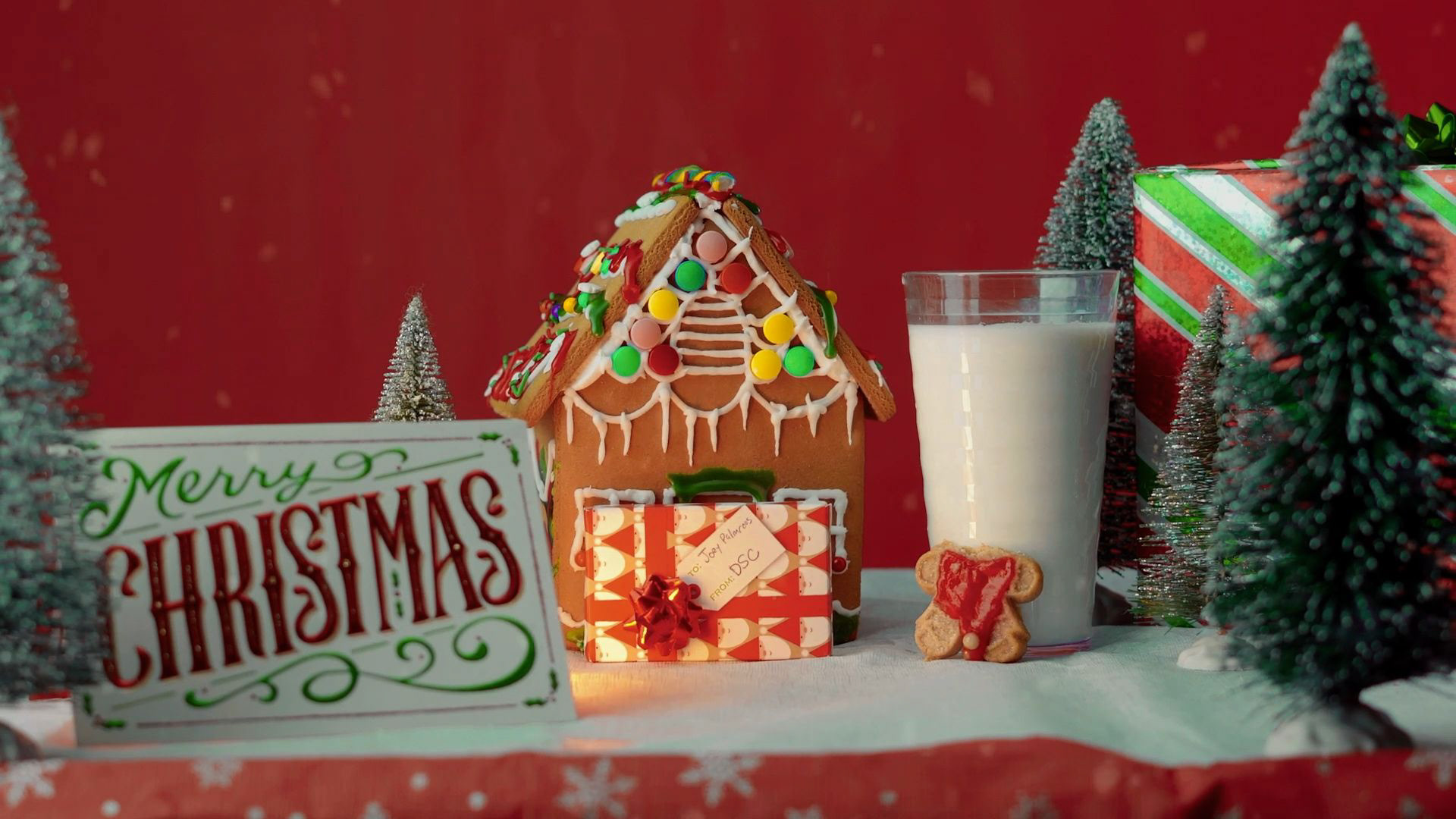 We did an initial brainstorming session where we spit balled all our ideas and finally came up with our concept for this Christmas B-Roll sequence, where the only rule was we had to include gingerbread into it some how. Our idea was to create a White Christmas Wonderland with gingerbread house and people inside of a Christmas present then throughout the video start pulling candy and the gingerbread men, then end it with dunking the cookie, and end it with the hero shot of the gingerbread man with his head bitten off.

Little did we know that building a gingerbread house and decorating gingerbread men wasn't the easiest task. We spent a good 2-3 hours on the part alone and were able to make something that was fairly usable.

While we let all the frosting set on the gingerbread house and people we started to shoot our opening scene, which started with Mike walking in to a card and present sitting on a table. He walks in grabs the card to read it then throws it to the camera which later we masked-in, so that we could transition into the shots of him pulling out items out of the box.

We lit the inside of the box with an
Aputure MC
to help add a glow to the box so as Mike's hand entered the box you could see his hand edge lit and then every item coming out of the box would pop a little nicer.
We took our time with each shot filming multiple variations of the same shot until we got the shots we wanted to achieve. This made our editing process even more seamless being able to pick from a numerous amount of takes.

One of the best parts of filming this b-roll sequence together was being able to collaborate on the shots we were filming and reviewing them together to make sure that every shot we filmed was exactly what we were looking for. Having a second or even a third pair of eyes was super beneficial and was one of the key components to our success of this video.

Once we finished filming all of our opening scene shots, we moved onto our Winter Christmas Wonderland shots. We had to work on the set design, which we all did together and that helped move things along pretty quickly.

By this point it was already 1AM and we were all starting to feel a little delirious. We had a lot of fun propping up our gingerbread people and the set in various different positions, adding some easter eggs, which added in a little bit of our personal character to the video.

We ended up wrapping up our video around 2:30AM and all hit the hay and recouped the next day to work on the edit. We all took turns on the computer adding our own touch and flare to the edit. It was pretty fun to watch how each of worked so differently in Adobe Premiere Pro as we edited the same sequence. We finished the edit and sent it off to Joey to react to and just waited for about a week until he launched his reaction video.

Then on December 23rd, 2020 at 8am Joey's video went live announcing the winner of the Christmas B-Roll competition. We all were very optimist if our would even be picked to be shown as in the reaction video, but then at 3:00 in Joeys video he opens our Christmas B-Roll sequence to react to! If we weren't stoked enough for that we just sat in anticipation to see who the winner will be. 
Finally after Joey finished watching all the videos and reacting to them he was ready to announce the winner. Joey and his brother both announced who they thought should be at the same time and they ACTUALLY picked our b-roll video as the winner! We felt so humbled to be picked and never even thought it would be a reality!
Thank you Joey for hosting this b-roll competition, we couldn't be more stoked to have actually WON! If you guys haven't please go check out Joey's channel and subscribe. If you guys haven't checked out the Downstreet Collective, please go check out our website, subscribe to our YouTube Channel, and follow us on Instagram! We have a lot up our sleeves and cannot wait to show you guys! So please go show us some love and be ready for a lot of fun content in 2021